80 YEARS AGO TODAY
Number 59 and the Colonial Boardinghouse
(Day 2)
April 6, 1941: Europe is at war and thousands of people fleeing the horrors of Nazi occupation are flocking to Portugal, one of the few remaining exit routes out of Europe. 'Rossio Square N.°59' is the story of Claire, a young French refugee who arrives alone in Lisbon, and of Antonio, a Portuguese café waiter who, on April 6, 1941, learns that a friend has been murdered.
Claire, Antonio and I are on Day 2 of our nine-day visit to Lisbon, then and now. Please join us. In addition to an excerpt from the novel (see the photos), we'll be telling you about fascinating places and strange names, the weird things one discovers (and does) when conducting historical research, the Lisbon of spies who cordially ignore each other, the novel-writing process, and much, much more.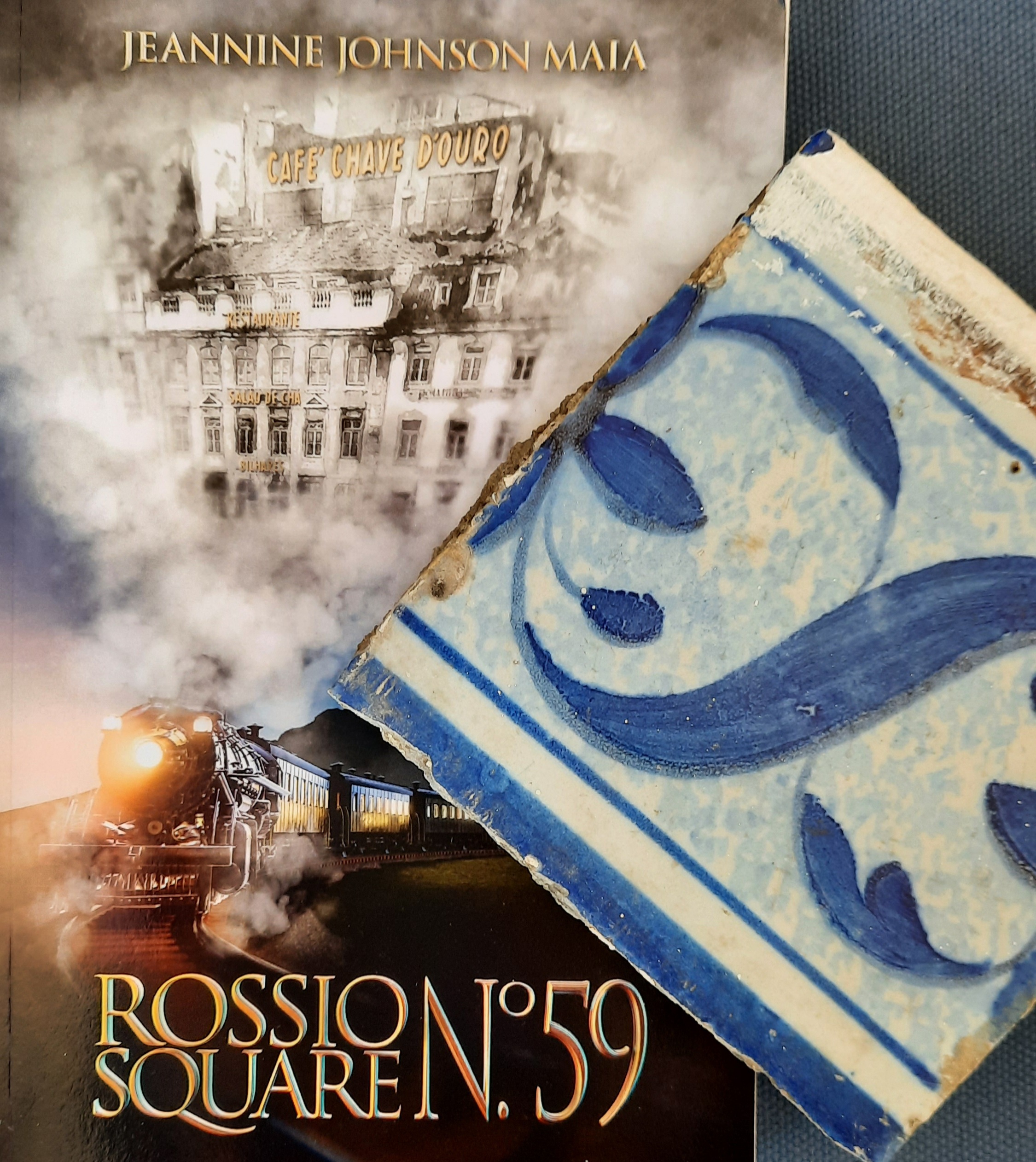 When I was doing historical research, I came across a wonderfully informative map and guide that accompanies the book 'Lisbon: A City During Wartime,' by Margarida de Magalhães Ramalho.
Following its directions, I traipsed around Lisbon until my feet were sore, locating places that would feature in my novel, including Rossio Square N.°59, where Claire finds a temporary home in April 1941. This building in the heart of downtown was the Pensão Colonial, a boardinghouse where hundreds of refugees fleeing WWII stayed, says the Lisbon guide.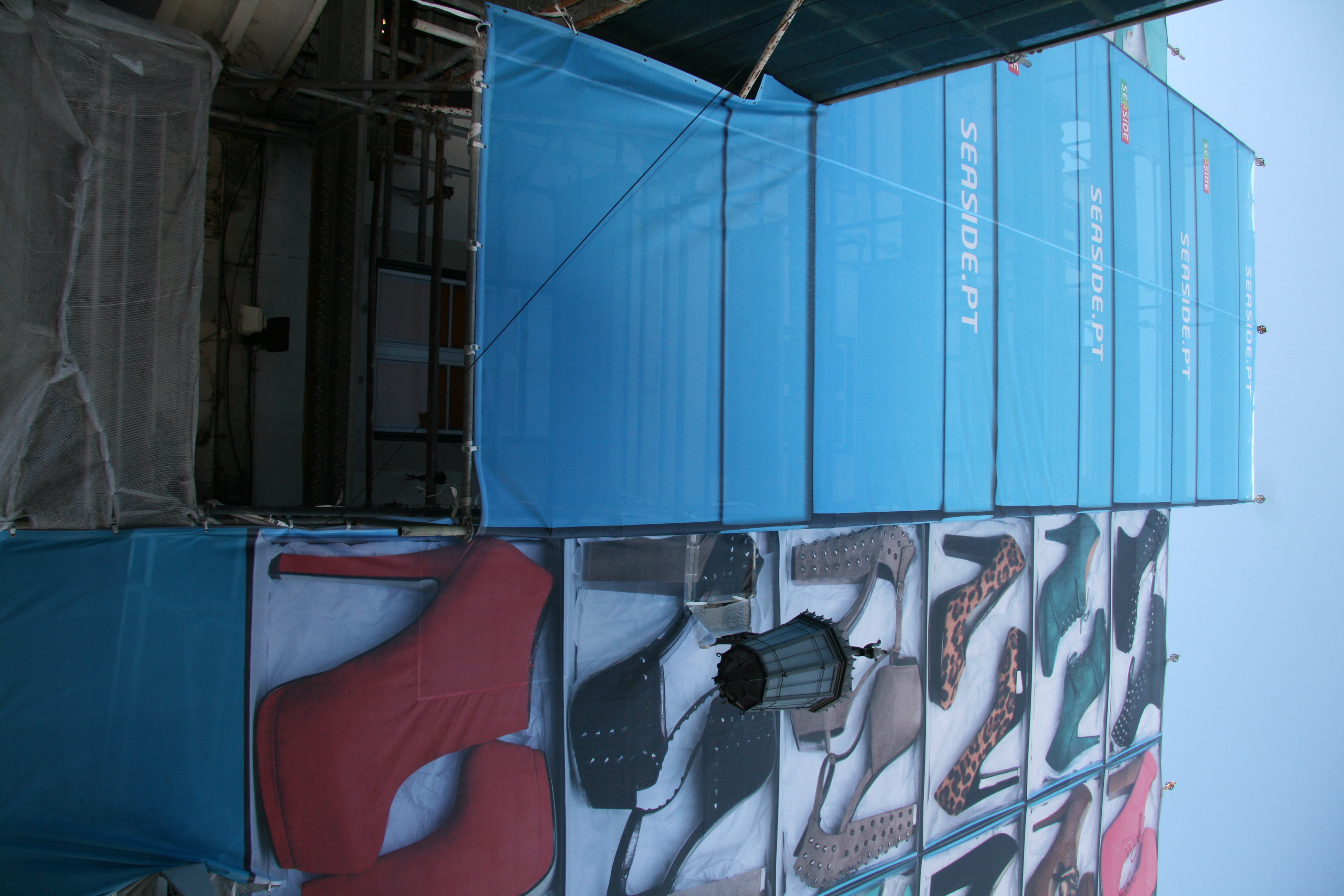 When I was working on the book, I was living in Belgium and had the opportunity to visit Lisbon only for a few short periods. I'm a writer who likes to see the lay of the land, however, and after I'd settled on N.°59, I had to go see exactly where it was, what the facade looked like, and what had become of it in the 70+ years since my novel took place. So when I had a couple of days in Lisbon, off I went with my camera, my notebook, and my rather bored teenage son. There, we discovered that in grand, elegant Rossio Square, there was a single building covered with scaffolding and a tarp displaying pictures of enormous shoes. It was – of course – N. °59. Since I couldn't leave Lisbon without seeing anything, we snuck in under the scaffolding.
I was peering through the front door window when suddenly a key appeared and a man's gruff voice asked if we'd like to go inside. As you can imagine, there was only one right answer. It turned out that the man was with the construction company, and he gave us a tour from top to bottom. The building was being gutted and it took some effort to imagine how it looked – run-down but livable – in the 1940s. Small details helped, like seeing the typical blue and white tiles that hadn't yet been ripped away from the staircase walls. (I was allowed to keep one of those, as you see in the photos.) We found a kitchen with the remains of a big fireplace and a long stone sink, now cluttered with debris, an old Pensão sign, and an ancient bell pull. (Thankfully, that answered one of those pesky questions writers of historical novels have to think about: no, there was no doorbell when Claire lived there.) From a window on one of the higher floors, I was able to see the view all the way to the hilltop castle of Saint George from the rooms that became Claire's and her Uncle Vincent's.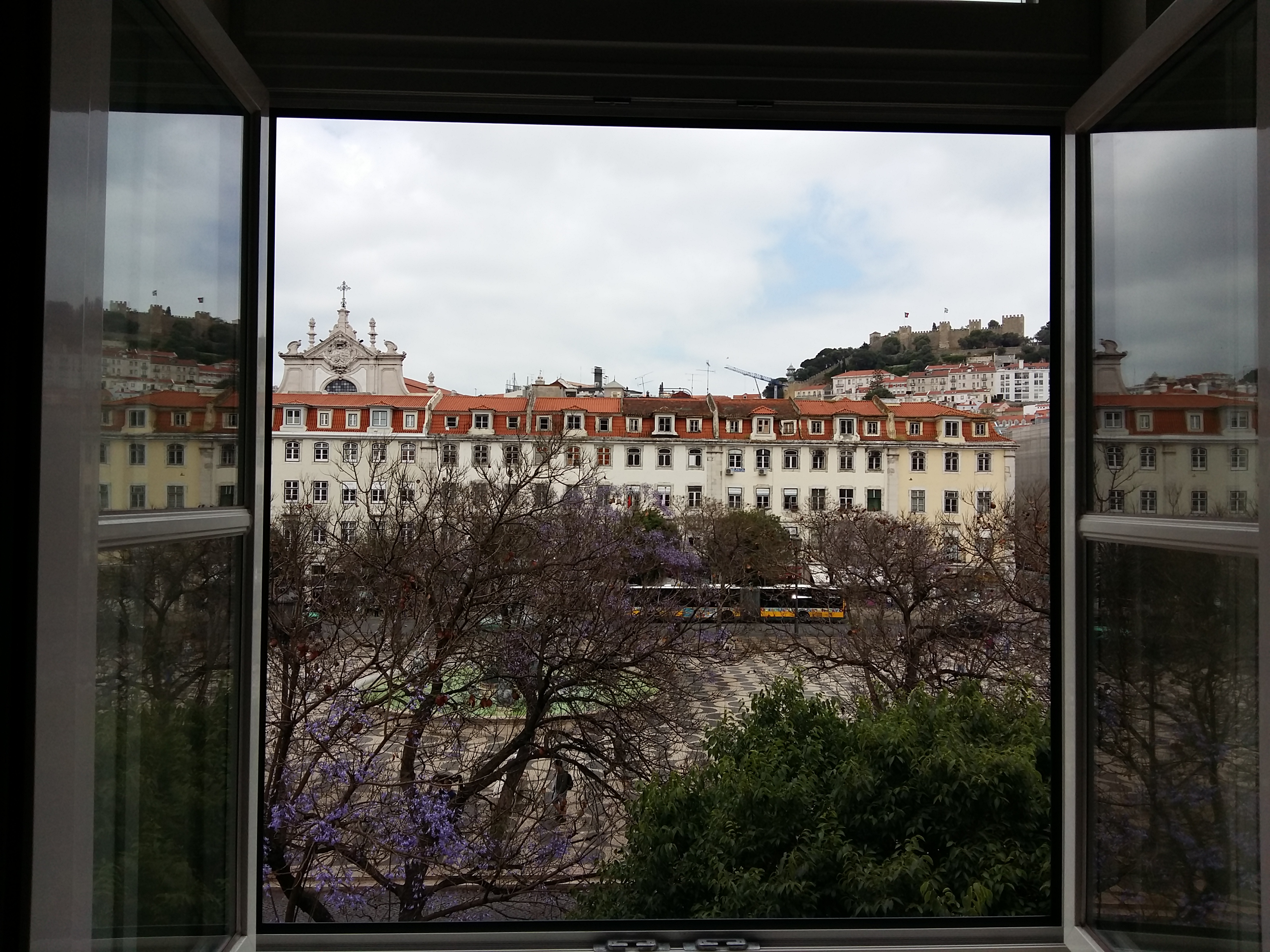 The visit also helped me solve a tricky problem. At one point, Claire needed to flee without using the main stairs. So, I thought, perhaps she could have climbed out a New York-style fire escape? The answer, it became clear, was a no. But during our tour, I discovered an alternative, and that's where she ends up in my story.
When I returned to Lisbon after a long absence, I returned to N. °59. By then, the construction work was done and a lovely boutique hotel had opened. I saw its sign and stopped short. I should mention that when I talk about a book I'm writing, I always call it "my story." It turns out that the name of this hotel, one of several in Lisbon, was My Story Rossio. A coincidence? Not a chance.
For the record, Claire's room is now Number 404.