80 YEARS AGO TODAY
Shall We Stop For A Drink? The Chave d'Ouro Café
(Day 3)
April 7, 1941: Europe is at war and thousands of people fleeing Hitler's advance are converging on Portugal, one of the continent's few remaining exit routes. My novel, 'Rossio Square N.°59,' is the story of Claire, a young French refugee who arrives alone in Lisbon, and of Antonio, a Portuguese café waiter who decides to investigate the murder of a friend.
Claire, Antonio and I are on Day 3 of our nine-day visit to Lisbon, then and now. Please join us! In addition to an excerpt from the novel, we'll be telling you about fascinating places and strange names, the weird things one discovers (and does) when conducting historical research, the Lisbon of spies and secret police, the novel-writing process, and much more. Today – April 7, 1941 – Antonio sees Claire in front of the Chave d'Ouro café, asks her to go on an outing, and gets a surprise. (To find out more, watch the video or read the excerpt in the photo.)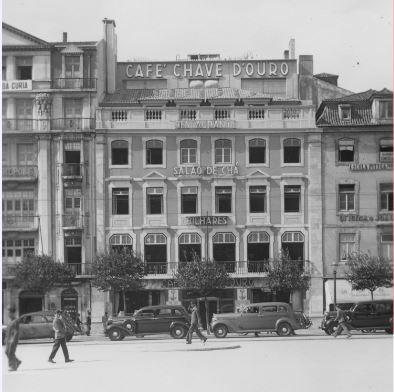 The Chave d'Ouro, where Antonio works, is located on Rossio Square, just a few doors down from Claire's boardinghouse. Clients – mostly male – could spend the day there if they were so minded: in addition to the café on the ground floor, the Chave d'Ouro has a restaurant, a tearoom, a tobacco shop, a busy billiards room, and a barbershop.
His boss isn't great, but Antonio needs the job and he's good at it. He's good at eavesdropping too, which has gotten considerably more interesting with foreigners from so many countries spending time in the café. Refugees aren't allowed to work, so they wile away their days or weeks or months by walking around the city, standing in line at the poste restante and praying for mail, or worrying and trying to plan for the future over little cups of coffee in the cafés.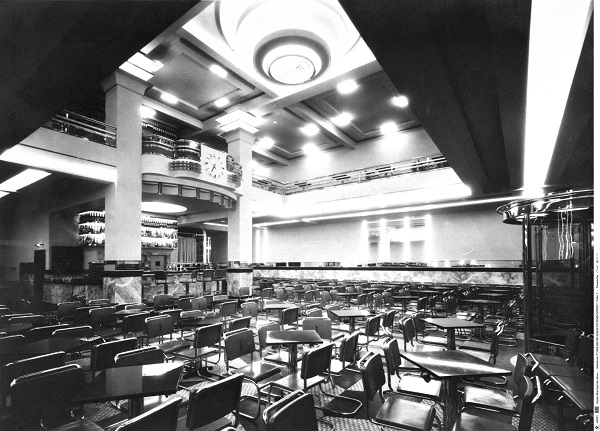 "HICEM [one of the refugee aid agencies] paid the doctor's and the pharmacy bill, the anti-anxiety and insomnia pills, and when the U.S. visa finally arrived, with a delay of over three weeks, it also paid the ticket that I had managed to negotiate in the Chave d'Ouro café a few hours before the little Portuguese steam packet cast off," wrote refugee Hans Sahl (quoted in Lisbon: A City During Wartime).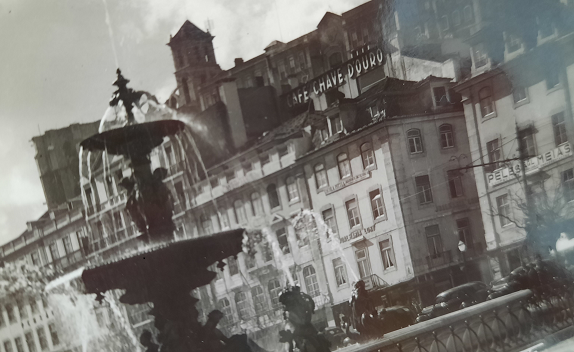 As he passes from table to table, tray in hand, Antonio can't help but hear bits and pieces of the refugees' stories: the nighttime banging on a door that tears a family apart, a man's perilous escape from a French internment camp, the horror of learning that one is on a Gestapo watch list, and the exhausting, often terrifying journeys to Portugal. The café is also a place people come to plot. Antonio overhears plans to assassinate Hitler, sabotage the British war effort, and force the Italians to switch sides, to name just a few.
Diplomats and spies from both sides operate in Lisbon, and they too frequent the cafés – as do agents from the PVDE, Portugal's secret police. Antonio sees them sometimes at tables set one next to the other, cordially ignoring each other. But their intent can be deadly, as Antonio realizes when his friend Thomas is abducted.
Today, what used to be the Chave d'Ouro houses a branch of the Caixa Geral de Depositos, a bank.